South Korea to investigate North Korean women's 'mass defection'

North Korea South Korea to investigate North Korean women's 'mass defection'
National Human Rights Commission to investigate whether 12 restaurant workers were brought to South against their will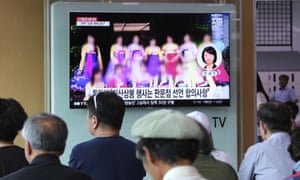 South Korea's human rights watchdog is to investigate whether 12 North Korean restaurant workers were brought to the country against their will by their manager, the latest twist in a mass defection dogged by controversy.
The move by Seoul's National Human Rights Commission comes less than a month after a United Nations official called for an investigation, saying some of the women were deceived into travelling to the South.
The 12 women arrived in South Korea with their manager, Heo Kang-il, in April 2016 from Ningbo in eastern China in what was one of the most sensational defections by North Koreans in years.
But officials in Pyongyang cried foul, saying the women, who worked in a North Korean state-run restaurant, one of dozens in China were female staff often perform music and dance, were kidnapped and demanded they be returned.
North Korea's claims were given more weight in May when Heo said in an interview with local television station JTBC he had worked with South Korea's intelligence service to "lure and kidnap" the women.
Three of the women were also quoted as saying they had not wanted to seek refuge in South Korea and wanted to return home. No one has managed to interview all 12, and they have been largely kept out of the public eye.
The controversy over their arrival has become an obstacle to warming ties between the two Koreas. Family reunions planned for next month between relatives divided since the 1950-53 Korean war could be scrapped if the women are not allowed to return to the North, Pyongyang's state newspaper, Rodong Sinmun, has said.
Dozens of North Korean restaurants dot China's east coast and are particularly popular among South Korean tourists.
Heo said he had decided to spy for the South after former classmates were executed in a political purge, and when he asked to defect, his handlers ordered him to bring the women with him.
The allegations further blackened the reputation of Seoul's spy agency, which has interfered in politics, aided corruption and fal sified espionage investigations. The defection occurred during the presidency of Park Geun-hye, who was ousted and jailed for graft, and took a hostile stance toward the North amid heightened tensions.
While there are about 30,000 North Korean refugees living in the South, it is rare for large groups to defect together, especially staff working in state-run restaurants abroad, who are considered elites by North Korean standards and chosen partly because of their perceived loyalty.
The 12 women and one man were part of what the US government estimates to be 93,000 people dispatched by North Korea to work abroad and earn much-need hard currency for the regime. North Koreans also work in the Russian logging industry and Qatari building projects.
South Korea's unification ministry has consistently said intelligence officers said the women came voluntarily, but has admitted it has been unable to speak with them directly. After the announcement of the investigation by the human rights commission, the ministry reiterated its stance that the women were not forced or coerced into defecting, according to South Korea's Yonhap news.
Topics
South Korea
Asia Pacific
news
Share on Facebook
Share on Twitter
Share via Email
Share on LinkedIn
Share on Pinterest
Share on Google+
Share on WhatsApp
Share on Messenger
Source:
Google News South Korea
|
Netizen 24 South Korea