South Korea handles pressure head on to take UL International Crown

South Korea handles pressure head on to take UL International Crown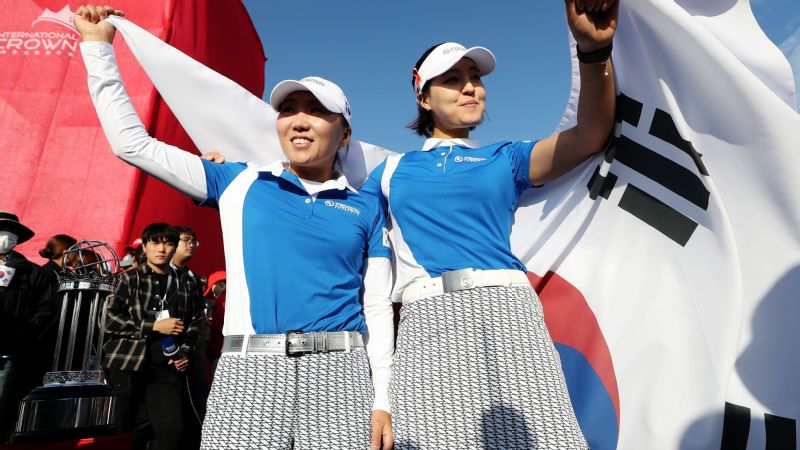 INCHEON, South Korea -- It won't happen, but if South Korea's victory in this year's UL International Crown does anything, other than allow So Yeon Ryu to scratch an itch that has been bugging her through the four years of the tournament's life, it should put an end to the notion that Korean golfers ar e somehow immune to pressure.
The rise of women's golf in this country has coincided with the trend for best-selling sports science books, and the latter has been in thrall to the former. With good reason for the most part. But the books, podcasts, articles and TV features have become so numerous that the narrative has ventured into lazy conventional wisdom.
There's the inspirational factor of Se Ri Pak's 1998 U.S. Women's Open victory, of formidable parents, of a culture which demands excellence, and of hotbeds and hothouses. These influences are profound, but a throwaway impression has formed that Korea has a Russian doll factory line of world-class golfers who are impervious to the stress which otherwise sorts the wheat from the chaff in top level sport.
The problem is: It's not really true.
The curious thing is that we know it's a fallacy -- the players win and then tell us as much -- yet those early stereotypes are hard to relinquish; we return to them like a child comforted by a favorite blanket.
Yet it is unfair on the players who, as we learned with this win, had plenty of demons to face -- and made many sacrifices to overcome them.
We knew as much early in the week, when the team (Ryu, Sung Hyun Park, In Gee Chun and In Kyung Kim) spoke warily of the nation's expectations. We knew as much on the first two days of play, when they made a solid start at the Jack Nicklaus Golf Club yet looked hesitant and strained.
We knew as much again when victory was assured and there was a sense that they were somewhat dazed by what they had achieved.
"It doesn't feel real yet," Ryu said. "We were worried and anxious about this tournament for such a long time that it feels kind of surreal that we won rather than any joy or relief."
The 28-year-old's admission was not a surprise. After all, there was a very clear sense all week at how much the result meant to her. She is linked to the sponsor, she's headed the publicity and promotion, she is alone in having played on both previous teams, and she took on the role, consciously or otherwise, of older sister or unofficial captain.
On Friday afternoon, in the wind and the rain, she had posted six straight pars, contributing nothing as she and In Gee Chun fell 1 down to Jodi Ewart Shadoff and Bronte Law before darkness halted the match on the seventh green.
We were worried and anxious about this tournament for such a long time that it feels kind of surreal that we won rather than any joy or relief.So Yeon Ryu
With Saturday's play called off, many teams opted for a day of rest. Ryu had other ideas.
"She thought it was a good idea that we go to the range," Kim said. "In Gee even canceled an appointment to meet a friend, and So Yeon bought us dinner afterward."
On Sunday morning, the player who benefitted the most was the organizer herself. Ryu played nine holes in 5-under. Chun threw in an eagle 3. They not only turned their deficit around; they ended up thrashing the English duo (4 and 3) to earned a vital two-point edge heading into the final session.
Shortly after, Ryu joined Park, her youngest teammate and the crowd favorite, on the first tee.
"I knew Sung Hyun was feeling the most nerves," she said. "She was probably under the most pressure as well. I really wanted to make the time to go down there and lend her my support."
Ryu also revealed that the roster had been deliberately plotted for the 10 singles matches, which determined which of the home nation, the United States, England, Sweden or Thailand lifted the trophy.
They planned for the big-hitting Park to be drawn against the equally long Ariya Jutanugarn. She was, yet lost 2 and 1. They also guessed Chun might get Anna Nordqvist if they opted for her to play Sweden. Another fine pick, and this time rewarded with a 1 up win. They even hoped Kim's two British wins would provide good luck against the English, and it might have done. She downed Law 2 up.
For her, the strategy was more straightforward: "Going last was a burden. I was putting very well in the morning so we thought I should take the pressure."
Following the end of the four-ball match, Chun had been swallowed by the voracious autograph-hunting crowd, an incident that spooked many of those caught up in it. A repeat was briefly threatened on the opening ho les of her vital final singles against Lexi Thompson, but Ryu dropped a birdie at the first to take the lead and matters calmed down.
However, her own flat patch and the weight of Thompson's match play game then hit her. She reached the 14th tee 2 down.
"I was frustrated," she said. "But I reminded myself that it's not only about me, but my teammates and representing our country. I kept calm, I checked the scores, and I felt I really needed to go for the minimum of all-square."
She birdied 14 to reduce the arrears and pushed Thompson into costly errors at 16. Job done. She completed three wins and that half for the week. In all, she had the most wins in the tournament's history (nine), and after finishing third in the inaugural event and second two years ago, she had finally tasted victory.
"We felt pressure in the past because it was assumed Korea would win the Crown," she said. "Why do I excel in the eve nt? Because we have a pool of very, very talented players and I have a sense of responsibility to my teammates and to Korea."
Ryu and her teammates were not without nerves this week. Instead, they conquered them. With victory, they thrilled the home crowds and they ought, also, to have dismantled a very modern sporting myth.
Source:
Google News South Korea
|
Netizen 24 South Korea